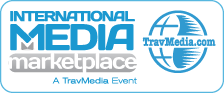 AROUND AUSTRALIA IN 3-DAYS!
• Your chance to plan a year's worth of stories, features and press trips
• Pre-book your appointments or drop in on an Exhibitor table
• Exhibitors from across the Australian travel and tourism sectors
• Dedicated IMM press room
• 3 day program of one-on-one appointments and networking events followed by the Australian Tourism Exchange (ATE), Australia's largest annual travel and tourism business-to-business event
TravMedia's International Media Marketplace (IMM) gives media the chance to plan a year's worth of stories, features and trips by meeting PRs from brands across the tourism and travel sectors.
International Media Marketplace (IMM) will feature brands from across the Australian tourism and travel sectors and takes place over 3-days from 9 to 11 May 2014 in Queensland's Palm Cove.
The formal media registration process for IMM will commence in January. In the meantime please ensure you receive an official invitation by registering your interest in attending.
Media can pre-schedule appointments with Exhibitors and are also free to visit tables without appointments.
Exhibitors each enjoy dedicated tables, and a floorplan of the event will be promoted ahead of IMM and included in our official Show Program.
The day will include networking breaks, sit down lunch for all attendees and a poolside reception. Refreshments will be served throughout the day.
Following the IMM program, media will have the opportunity to attend the Australian Tourism Exchange [ATE] in Cairns 11 to 15 May. ATE is Australia's premier tourism trade event and the largest international travel trade show in the southern hemisphere.
Download your dedicated Media Program
(opens PDF in new window)
FAMILS
Tourism Australia in partnership with our State and Territory Tourism partners will be inviting media delegates attending International Media Marketplace to participate in our familiarisation program. This will be an excellent opportunity to experience some of the best Australian tourism products and experiences firsthand. Details of familiarisation tours will be released shortly.
ATE'S IMM AT A GLANCE
Who is IMM for?
Leading domestic and international broadcast and consumer media, trade journalists and digital influencers.
Who is attending IMM?
Over 70 Exhibitors from across the Australian tourism and travel sector as well as the State and Territory Tourism Organisations.
When and Where
Friday 9 May to Sunday 11 May, Palm Cove, Queensland
How to plan your appointments
We recommend using IMM's dedicated appointment booking system (journalists are also free to drop in on exhibitor tables).
Catering
Complimentary refreshments throughout the day, networking coffee/tea breaks, formal sit-down lunch with keynote speaker and poolside reception.
Apply for your media place here
Applications to attend ATE14 IMM are now closed